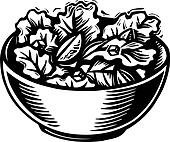 Please welcome guest blogger Michelle Drier who writes about the salads of summer. Now that we're at the tail end of summer, this is a good reminder to fix these while we have those fresh tomatoes. Thanks to improved supermarkets, we can generally get pretty good tomatoes all year round—not as good as homegrown but better than the cardboard we used to get in the winter. If you shop carefully, you can really enjoy these salads all year around.
My salad days are behind me now, but come summer I start planning summer meals around salads and count the days until the homegrown tomatoes are ripe. In my part of
California
, though, the last two summers have been cooler than usual, meaning the air conditioner didn't run full tilt but the tomatoes didn't ripen well, either.
Last year, I subscribed to one of those farm-to-you services that delivers a box of produce to your door once a week but found that I just could not eat all that was delivered...and in the winter, there was a lot of kale, not one of my faves.
So this summer, I've been haunting local farmers' markets for my almost-home-grown tomato fix.
As a kid, I used to pick a tomato, slice the top off, sprinkle it with salt, let it sit for a few minutes and eat it like an apple.
Oh, that warm, sweet, salty, tomato goodness.
Now, there're BLTs; good Swiss cheese and tomatoes on crunchy sourdough; sliced tomatoes, basil and buffalo mozzarella drizzled with olive oil
Lots of salads with tomatoes, and some without.
Over the years, I've spent some time in Mediterranean countries, and two of my favorite salad stalwarts, a good Greek salad and a Salade Nicoise, are meals a few times a month.
GREEK SALAD
1 tomato (as ripe as possible; heirlooms are good)
½ - ¾ English cucumber, peeled
½ sweet red pepper
¼ sweet yellow pepper
¼ sweet red onion
12 (or more if you like kalamatas) pitted kalamata olives
¼ pound block feta cheese
Oil and vinegar dressing
The salad should be layered, not tossed. Thinly slice the peeled cucumber (use a knife--I used my mandolin once and the slices were so thin they dissolved) and layer into a salad bowl or decorative plate or platter.
Quarter the tomatoes, juice slightly and cut into bite-sized pieces.
Slice the peppers and the onion into thin strips and sprinkle over the cucumbers and tomatoes. Cut the feta into thicker rectangles (try NOT to use crumbled feta, it just dissolves and becomes part of the dressing.
You want to be able to break up the feta slices with your fork as you eat.)
Toss on the kalamata olives, sprinkle with olive oil and balsamic vinegar, grind on pepper and sea salt and enjoy!
Serves two.
SALADE NICOISE
There are schools of salade nicoise thought.
Some include tomatoes, some potatoes, some anchovies, some tuna, some artichoke hearts, some cucumbers, but all include baby greens and the young green beans the French call
haricots vert
.
Because I make this as a main dish, I use potatoes, an adulteration according to one of my cookbooks.
Adulteration or not, when I dish up a helping of this, I'm back on a terrace overlooking the
Mediterranean
.
1 head butter lettuce
1 medium tomato, juiced
2
medium Yukon Gold potatoes
1 can water-packed albacore tuna (oil packed is tastier, but high fat)
1 ½ cups whole baby green beans (Trader Joe's sells frozen haricots verts)
2 hard-boiled eggs, quartered length-wise
¼ sweet red onion, thinly sliced
½ cup nicoise olives (kalamata will work)
This salad should also be layered, not tossed. Rinse the potatoes (don't peel) and cut into 1" cubes.
Boil until fork-tender (about 12 minutes).
Quarter the tomato, juice and cut into bite-sized pieces.
Drop frozen beans into rapidly boiling water and cook about 3 minutes.
Immediately drain. Rinse the butter lettuce and tear into bite-sized pieces. Flake the tuna over the lettuce. Sprinkle the tomatoes, cooked potatoes, green beans, onion, eggs and olives over the lettuce.
Shake olive oil and balsamic vinegar over the salad, grind on pepper and sea salt to taste.
Serves two.
I usually make an oil and vinegar dressing about once a week to use on a few day's worth of salads.
It's roughly equal parts of olive oil and balsamic vinegar (maybe 3 tablespoons of each), about a tablespoon of water (just to cut the amount of fat), sea salt, ground black pepper, occasionally some dried thyme or basil .
I put this in a plastic container with a lid and just shake well each time before using.
Keeps in the cupboard.
Michelle Drier

was born in Santa Cruz, California to a family that migrated west to San Francisco in 1849.

Unfortunately, they never found gold, nor did they buy (and hang onto) any California land.
She is a member of the Society of California Pioneers and Sisters in Crime and lives in California's

Central Valley with a cat, skunks, wild turkeys and an opossum (only the cat gets to come in the house!).
SNAP: The World Unfolds
SNAP, a multinational celeb TV show and magazine, is the holy grail for Maxie Gwenoch. When she snags the job as managing editor, she's looking for fame, fortune and Jimmy Choos. What she finds is a media empire owned by Baron Kandesky and his family. A family of vampires. They're European, urbane, wealthy and mesmerizing. And when she meets Jean-Louis, vampire and co-worker, she's a goner.
The Kandesky vampire family rose in Hungary centuries ago. They gave up violence and killing to make a killing on the world's commodities markets and with that beginning they built SNAP, an international celebrity multimedia empire. Now cultured…and having found food substitutes for killing…they've cornered the world market for celebrity and gossip journalism.