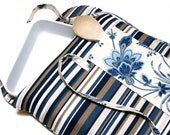 An insulated casserole carrier from Moonlight55
I looked up the origin of this term. One theory is that it refers to communal meals served by Irish women in one pot--each woman threw in whatever she had. In the American West, the meals were community affairs with no planned menu--everyone brought whatever dish they wanted and you literally took "luck of the pot." I have been to potluck suppers where there was an assigned menu--if you signed up for the entree, you got a recipe to fix. I once signed up for dessert and made my first Bundt cake--half of which stayed in the pan when I tried to take it out. I learned the hard way that you must take the cake out of the pan five minutes after removing it from the oven. So I made a second cake, and one of the men in the group ever after referred to me as the "two-cake" lady.
My daughter Jordan has instituted small summer night potluck suppers at her house, and she chooses a theme for each. We've had pizza (she was out of town that week, and Christian could do it), and salad suppers, and, of course Mexican night. Most recently it was southern down-home cooking--chicken (okay, from KFC), mac and cheese, turnip greens, green beans (my contribution), and the best sweet cornbread I've ever eaten. I'm not sure what she'll come up with next for the theme.
I take my dishes in a wonderful casserole carrier that my mom bought years ago at a church bazaar. When she was widowed, she lived near us and ate supper with us almost every night, always bringing a dish in the carrier. A friend said she could make a pattern from mine and copy it--and she made several. I bought them as gifts. But recently Terry Moon saw the title of my food blog and wrote me about her handmade gift ideas. She sells insulated casserole carriers, trivets, pot holder, and skillet handle coveers made of designer fabric. Check them out at
http://www.etsy.com/shop/moonlight55
. I think casserole carriers are one of the greatest things invented since sliced bread.
Here's the recipe for Christian's green beans--I call them that because my son-in-law, not an avid vegetable eater, loves them. I warned him he would have to share. He didn't realize I was joking and said solemnly, "Oh, I will." You never know how many people will be there, so I took enough for Cox's army and suspect they had lots of leftovers. I used three large cans of green beans last night, but usually only use one--and if it's just the four of us (including Christian) I often don't have leftovers.
Christian's Green Beans
3 slices bacon, cooked and crumbled, grease saved
3 scallions, chopped
Vinegar to taste
1 28-oz. can green beans, drained
Fry bacon crisp and remove from the skillet to drain on paper towels. Leave enough grease in the skillet to sauté scallions. Pour in vinegar to taste, and add drained green beans. Crumble the bacon over the beans. Serve hot.